To order call or email me
Phone: 907-398-8917
E-mail: davidhartmansigns@yahoo.com
All photos copyrighted and provided courtesy of Adachi Media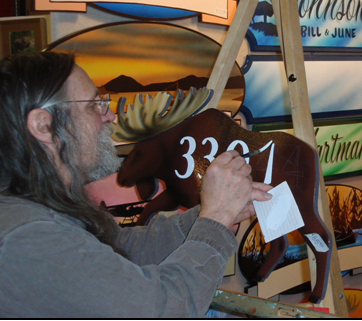 I am a sign painter and calligrapher. Since 1994, my primary job has been with Sherman Signs in Soldotna, Alaska. Off-season, I hand-letter Alaskan-themed signs and sell them at craft shows.
My fish signs include king salmon, red salmon, trout and halibut. I've made bears, ravens, eagles and moose. I make a variety of panels with animal silhouettes. I also paint larger custom ovals of outdoor scenes, including mountains, lakes, sunsets, or the northern lights.
I've recently started putting my silhouettes on t-shirts with a process of spraying a bleach mixture on to the shirt and then lettering the shirts.
All the lettering is done by hand and is included in the price.
The signs are hand-cut from MDO plywood. Each sign has three coats of paint and I sand in between the coats. This process produces a quality exterior-grade sign that will withstand the harsh Alaskan climate.
If you are interested in a sign please call me on my cell at 907 398-8917. I ship
USPS Priority Mail - $5 to $10 in Alaska, shipping outside is based on actual costs. The cost for shipping a shirt is $5 in the US.
I look forward to hearing from you!
David Hartman
Funny River Road,
Soldotna, Alaska